Cameroon Water Project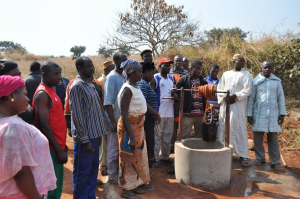 Water for Cameroon is a ministry of Grace Bible Fellowship which seeks to alleviate poverty and improve the health and well-being of the people of Cameroon by
facilitating the provision of clean water through supporting well-digging, bio-sand filter and hygiene promotion projects
providing training in the development and maintenance of wells and in the production and use of bio-filters and capacity building in the local community through community development projects.
For more information see www.waterforcameroon.com
Press Release for World Water Day 2021
Today on World Water Day, Irish registered charity Water for Cameroon are launching their fundraiser for the construction of 4 wells to provide clean and safe water to four communities in North West Cameroon.
Safe drinking water is very precious, more precious than most of us think. Every drop counts. It counts even more to the typical rural Cameroonian family.
In Ireland we expect to have water on demand. We turn on the tap and water comes out. We don't ask how it gets there.
The challenges in relation to COVID-19 in these rural communities with no access to safe clean water, is of major concern.
Water for Cameroon began in 2007 after Mick Toolan travelled from Ireland to visit the Ndop Plain in the NW Region of Cameroon where friends of his were working as missionary Wycliffe Bible Translators.
Mick was struck by the scale of local people drinking unclean water and was upset learning of the resulting illnesses and high infant mortality rate.
Since 2007 our mission is to work with the Cameroonians to help them develop safe sources of drinking water through the construction of local community wells.
In rural communities without a well, it is mostly children and women who have to travel miles to a typical water source where the water is dirty causing disease, sickness and mortality. Collecting this dirty water is often a time consuming job and the journey is often also dangerous.
Since 2007, and through your generous support 70 wells (including new wells and old rehabilitated wells) have been successfully constructed that are providing communities with local access to clean and safe water which are transforming communities health.
Mick Toolan has been working directly with on-the-ground Cameroonian partners and local communities to provide health education programmes, raising awareness of the importance of clean drinking water, constructing wells and providing bio-sand filters ensuring the availability of clean and safe water.
Local people are trained to maintain the wells. Throughout the process the importance of good working relationships is a key emphasis.
Water for Cameroon has now been working with a trusted partners in Cameroon for several years and together we are providing assistance to communities most in of access to safe clean water.
There are currently 4 wells that need to be constructed in four villages in the North West region of Cameroon. The local communities have each raised the required 10% of the costs. Water for Cameroon currently have no funds to start the construction of these wells which on average cost €4,000 per well. This fundraiser to raise €18,000 is to ensure these 4 wells are constructed and that some financial support can be provided for basic Covid-19 protection items such as face masks. 100% of funds raised will go to these 4 well constructions.
Water for Cameroon takes 0% profit. Mick and our Irish Team are volunteers.
It's important to realise that the challenges in relation to COVID-19 in a rural community in Cameroon, with no access to clean water, is of major concern. It is a huge task.
As a Irish registered Christian charity, all is done with God's glory in view and out of the conviction that lasting transformation in human experience comes from the Gospel of the Lord Jesus Christ.
The efforts of Water for Cameroon, its supporters and partners are really only a drop in the ocean. But every drop counts, especially to these rural families. Help them have safe drinking water.
Please give what you can.
Thank you for taking the time to read about our work and supporting this fundraiser. If you would like to have more detailed information on our completed projects or about our work in general then please view our web site www.waterforcameroon.com. To donate to this fundraiser please donate at this link: https://gofund.me/3e144a16