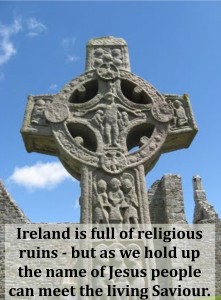 Kirk and Madeline Joyce working with Operation Mobilisation Ireland
We were sent out by Grace Bible Fellowship in 1992. Since then, our brothers and sisters in Grace have supported us in prayer and finances, as we worked alongside churches throughout Ireland. In all these places, whether through kids' clubs, youth events, Bible studies, festivals or Fleadhs, our desire has always been to touch the hearts of people of all ages, with the life-changing truth that Jesus has opened the door into a rich and intimate walk with Father God who made us and longs to care for us in this life and for all ternity.
Our present role within Operation Mobilisation Ireland is to facilitate and encourage others who desire to do the same.
For more information, click here.