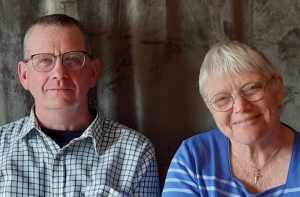 Kirk and Madeline Joyce working with Operation Mobilisation Ireland
We were sent out by Grace Bible Fellowship in 1992. Since then, our brothers and sisters in Grace have supported us in prayer and finances, as we worked alongside churches throughout Ireland. In all these places, whether through kids' clubs, youth events, Bible studies, festivals or Fleadhs, our desire has always been to touch the hearts of people of all ages, with the life-changing truth that Jesus has opened the door into a rich and intimate walk with Father God who made us and longs to care for us in this life and for all eternity.
In 2018 we joined Operation Mobilisation (based in Rahara, Co. Roscommon) to coordinate the Church Partnership Programme within Ireland. We have found that our experience has uniquely equipped us to recruit, place and mentor international missionaries in rural churches, where gatherings are small and the needs many.
OM's philosophy of REACH, EQUIP, MOBILIZE, ensures that the missionaries are contributing in all areas of local church life:
Reaching the lost
Equipping the saints
Mobilizing God's people for the Great Commission.
If you would like more information on OM's Church Partnership in Ireland please contact one of us by email: kirk.joyce@om.org or madeline.joyce@om.org
For more information on OM generally click here
============================
UPDATE – June 2020
We have spent some time recently confirming a new name for the program of which we are the co-ordinators…..so please be introduced to Partners for Church Growth !! Our Partners are the missionaries who have come to help in rural Ireland by enabling church growth.
The lockdown hasn't slowed things down with us at all !!
We already had our new recruits in orientation and were about to begin the placement procedure. Despite restrictions, this young couple from LA, are ready to make a move to a small village in Co Sligo to help 're-plant' an ageing Methodist church, as soon as doors open for housing.
Another family who have served in Co Galway for the last number of years are beginning a two year study break, hopefully with Irish Bible Institute, in the autumn.
A mature couple who have served internationally for many years, and more recently in administration at Lacken House, are seeking to work directly with church and community. Their need is for a position where maturity and experience will be a blessing.
As these, and other, transitions are on-going, please continue to pray for Kirk and myself. Meeting on-line has extra stress factors that tax our emotional and physical resources.