Cameroon Water Project
Fresh Water for the people of the Ndop Plain, Cameroon. In a specific area of Cameroon, the Ndop plain, 200k people live in rural communities over a land area of X. Despite numerous attempts by aid agencies, these people have little or no access to clean drinking water.
This project is being lead by a team of people from Grace Bible Fellowship with the specific objective of providing this basic right to the people. The project is quite simple. The team will fund and co-ordinate the building of 35 wells over 5 years. The feasibility of this project has been tested through the completion of two wells in the area which have been successful.
The well construction will be managed by approved contractors and prices have been negotiated. The total cost for the project is €35k.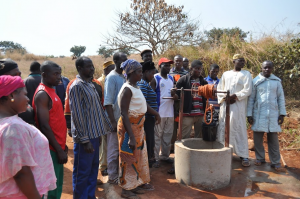 Want to help?
Anyone can help… simply running a coffee morning in your house, or if you are involved in a sports or social club arranging a club fund raising event like a table quiz. If you simply want to donate or even buy a Biofilter for a family in Cameroon please drop an email to Liz Rowen and we can take from there.
Who to contact
Liz Rowen – liz.rowen@hotmail.com
For more informations please click on the link below: www.waterforcameroon.com